The 4th Study session of future information security
The study group, which is co-sponsored by the Information Security Research Institute, where Yoshiaki Harada's office and Mr. Takatoshi Nakamura serve as representative directors, has received great respond from everyone every time.
We also broadcast live at the same time from the last time, and it is now possible to participate easily by people far away with in Japan and overseas.
The 4th study session will be held as below.
Since the beginning of this year, news on information security has been an issue, including the information leakage of Mitsubishi Electric and NEC, which has played a central role as a key figure in Japanese cryptography, Toshiba's quantum cryptography technology development, and the Bank of Japan's digital currency.
The key to building a safe society using the right technology lies in "complete cipher." Cryptographic technology that cannot be broken even in the quantum computer era that will be put into practical use right away. National security realized by this complete cipher. And the next generation of information and communications-related industries. In particular, there is no doubt that the digitization of cash will have a significant impact on the future of Japan.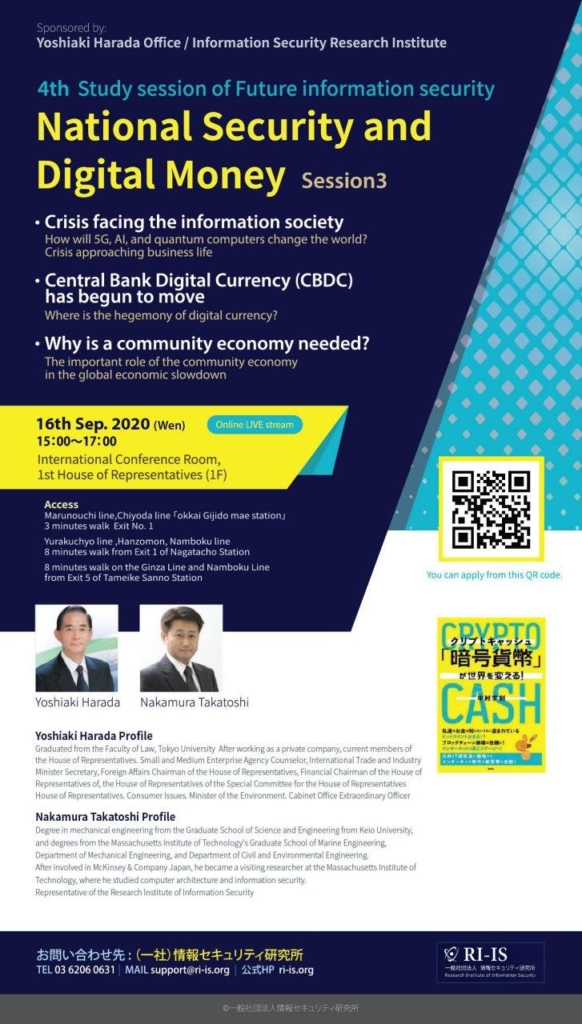 On the day of the lecture, Representative Director Nakamura will give a lecture followed by Mr. Yoshiaki Harada's greetings. How about joining us in the study group that will be the start of a new era?
Study Group: National Security and Digital Money with Complete CIpher – Part 3 –
The Crisis Facing the Information Society
What is the world that 5G, AI, and quantum computers will change? The crisis that approaches both business and lifeline
Why is the community economy needed?
As the global economy stalls, the important role of the community economy
Central Bank Digital Currency (CDBC) starts to move
Where is the digital currency's hegemony?
Date:
Wednesday, September 16,
Time:
15:00-17:00 Open 14:30
Location:
Large Conference Room (B1F)
(Due to corona virus protection, the venue has been changed to a larger venue.)
Participation Fee:
2,000 yen
yen (including first-time , book fee included)
experienced participants 1,000 yen (those
who already have books)
Net participation 1,000 yen (live video broadcast viewing)
Capacity: 150 people
Reception :
Date: Wednesday, September 16, 17:30-19:00
Location: Underground dining
room (planned) participation fee: 3,500 yen
Due to the impact of the corona virus, the cafeteria will not be open on this date and time, so the reception is cancelled.
●Please apply for participation from the button below.

---